Is Your Heart: Broken? Lost? Stuck?
Grief from Deep Emotional Loss is More Common Than You Might Think
The Grief Recovery Method® Guide for Loss will give you 61 tips on the experience of Grief and provide hope for healing.
This Special Guide will: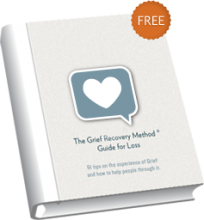 Give you definitions of Grief so you no longer have to wonder if what you are feeling is normal
Clearly outline Typical Responses of Grief so that you know you are normal
Reveal whether you are Incomplete with a Loss so that you can choose to heal

Uncover the Impact of Unresolved Grief

so that you know the consequences you are paying now and will pay in the future

Understand the Most Common Misconceptions about Grief so that you can begin to replace those with truth

Point you to the only Action-Based, Powerful, Directed Approach for Healing from Life's Deepest Heartbreaks

so that you can experience Joy again
You're not alone!
Through The Grief Recovery Method we have helped tens of thousands of people all over the world take the small steps to show up for their lives again with motivation and desire.
Submit your name in the form to the right and you'll receive this Special Guide ... PLUS more tips to help you find your way out of the fog and learn to love again.
What others are saying:
"When I first began the Grief Recovery Method, my grief was in one big emotional soup pot. By following the GRM with Denise, my emotions became organized and I have been able to come to terms with the different aspects of my loss. This process has brought such relief to me and I can now move forward with the future. I am grateful and recommend this program."